Getting around Belgrade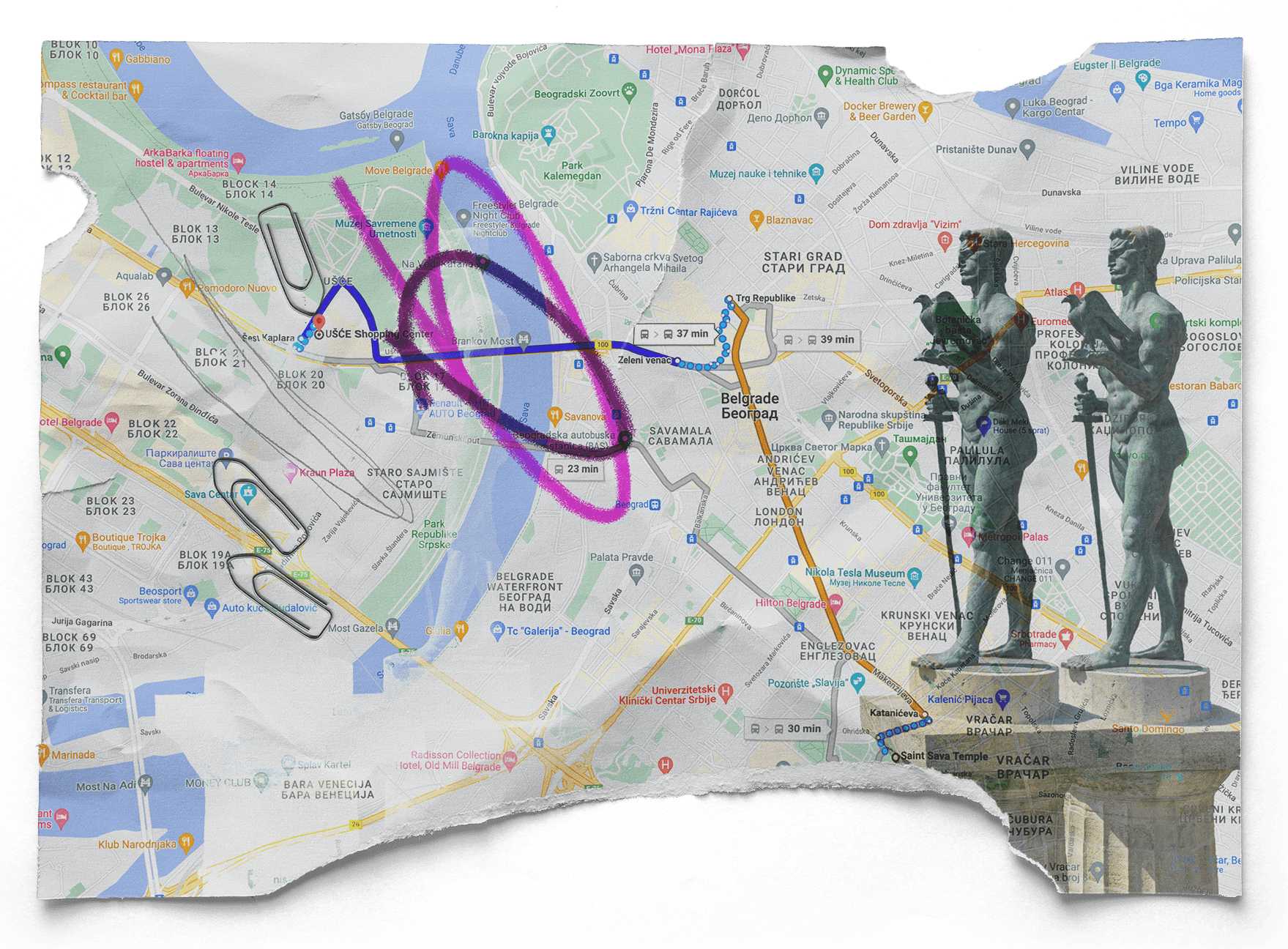 Public transport
Belgrade's public transport system includes a network of buses, trolleybuses and trams that run throughout in city and suburbs. Tickets can be bought at newsstands around the city (look for the "Moj Kiosk" sign). If you plan to use public transport often, you can buy a 1-day ticket (280 RSD), a 3-day ticket (720RSD) or a 5-day ticket (1100 RSD). The time limit for this kind of ticket starts when you buy it. The receipt will tell you exactly when your ticket expires. Tickets must be validated when you enter the bus. Also note that these types of tickets are not valid for night buses (from 00:00 hours until 04:00 hours, although some 'day' buses depart at 00:00; night buses have the N suffix to the number of the line).
Single-use ticket prices:
89 RSD (if you purchase the ticket at a newsstand (kiosk), or when using a Bus Plus travel Card or if you pay using a MasterCard on the bus).
150 RSD (if you purchase the ticket from the driver; valid for one ride only).
Tickets are valid for 90 minutes. They can be used on multiple buses / trolleybuses / trams during the 90 minutes.

Useful links:
Taxi

Taxis are an affordable, commonly used, way of getting around Belgrade. You can order a taxi directly, through an app or taxi company website.

The following Taxi companies have an app (to order a taxi) and allow card payment:
As in any other tourist destination, taxi scams happen in Belgrade. It is always best to order a taxi through an app or website. Be sure to choose a taxi with a roof sign with the city coat of arms and a number, indicating it is a city-regulated radio taxi. Never take a privately owned taxi (these taxis have a white sign on the roof that DOES NOT show the name of a company).
Insist that the trip be metered and agree on the payment method beforehand. The only exception is if you take a taxi from the airport to the city, when you should use the taxi voucher scheme (as described in the section above), when you will pay a fixed price for travel to various parts of the city from the airport. Tipping taxi drivers is welcomed but not required. Your luggage transport is included in the metered price.
Ridesharing
CarGo is Serbia's version of ridesharing. Through the CarGo app you can order a ride from point A to point B. The payment is handled automatically via the app. It is an excellent hassle free ride. The app displays fare estimates for the trip. Link for download https://appcargo.com/