Merlina Classics Film Festival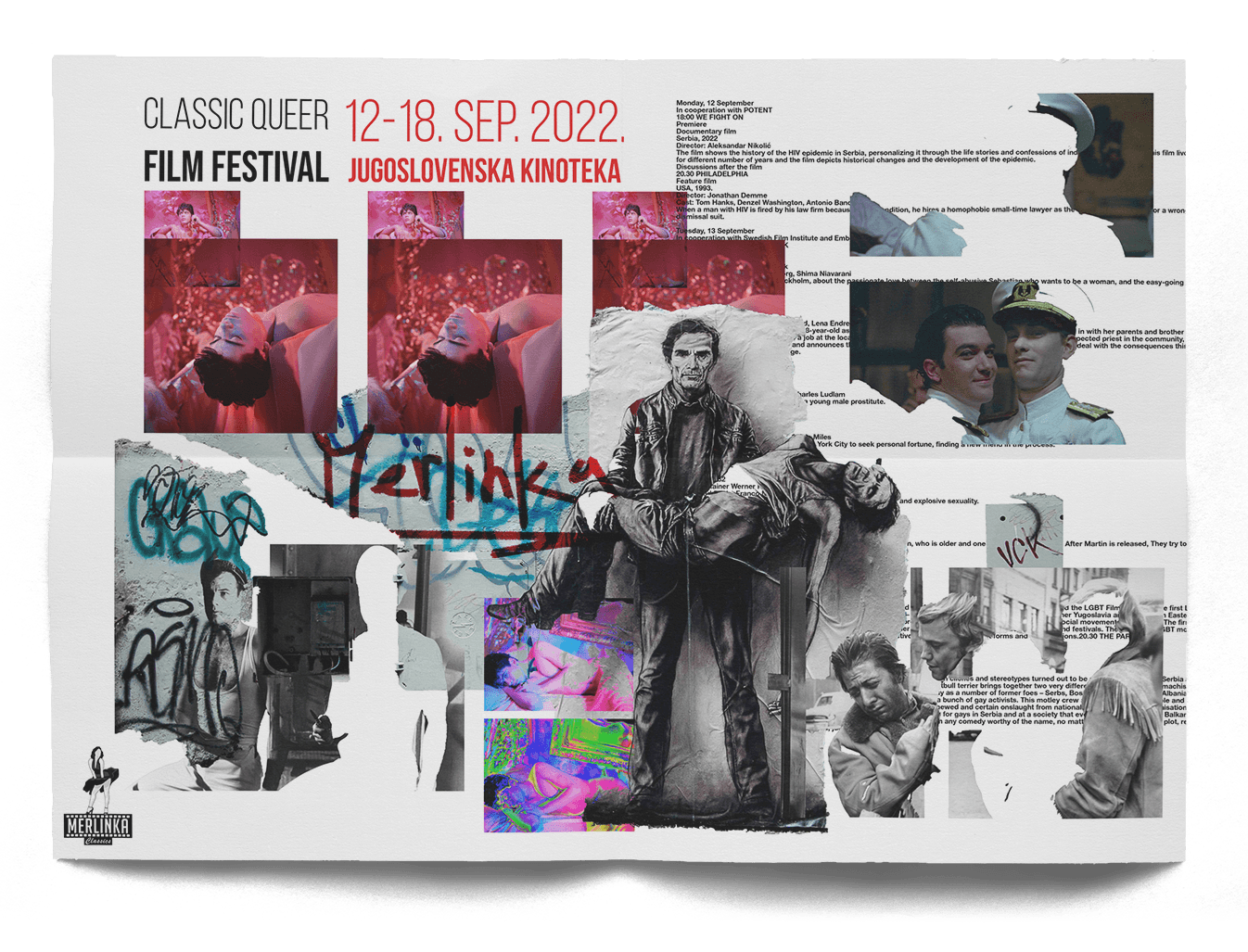 Monday, 12 September
In cooperation with POTENT

18h - WE FIGHT ON
Premiere
Documentary film
Serbia, 2022
Director: Aleksandar Nikolić

The film shows the history of the HIV epidemic in Serbia, personalizing it through the life stories and confessions of individuals. Subjects in this film live with HIV for different number of years and the film depicts historical changes and the development of the epidemic. Discussions after the film


20.30 - PHILADELPHIA
Feature film
USA, 1993.
Director: Jonathan Demme
Cast: Tom Hanks, Denzel Washington, Antonio Banderas

When a man with HIV is fired by his law firm because of his condition, he hires a homophobic small-time lawyer as the only willing advocate for a wrongful dismissal suit.
Tuesday, 13 September
In cooperation with Swedish Film Institute and Embassy of Sweden

18h - SOMETHING MUST BREAK
Feature film
Sweden, 2014.
Director: Ester Martin Bergsmark
Cast: Saga Becker, Iggy Malmborg, Shima Niavarani

A gritty story taking place in Stockholm, about the passionate love between the self-abusive Sebastian who wants to be a woman, and the easy-going Andreas who is certainly not gay.


20.30 - MY FATHER MARIANNE
Feature film
Sweden, 2020.
Director: Mårten Klingberg
Cast: Hedda Stiernstedt, Rolf Lassgård, Lena Endre

After breaking up with her boyfriend, 28-year-old aspiring journalist Hanna decides to leave Stockholm and move back in with her parents and brother in her small hometown, Alingsås. After she gets a job at the local news station, her world turns upside-down when her father, a respected priest in the community, informs his family of his lifelong feminine side and announces that he wants to come out as Marianne. The whole family must now deal with the consequences this might have for them and the community at large.
Wednesday, 14 September

18h - PINK NARCISSUS
Feature film
USA, 1971.
Director: James Bidgood
Cast: Don Brooks, Bobby Kendall, Charles Ludlam

An erotic poem set in the fantasies of a young male prostitute.


20.30 - MIDNIGHT COWBOY
Feature film
USA, 1969.
Director: John Schlesinger
Cast: Dustin Hoffman, Jon Voight, Sylvia Miles

A naive hustler travels from Texas to New York City to seek personal fortune, finding a new friend in the process.
Thursday, 15 September
In cooperation with Goethe Institute

18h - QUERELLE
Feature film
Germany, 1982.
Director: Rainer Werner Fassbinder
Cast: Brad Davis, Franco Nero, Jeanne Moreau

A handsome sailor is drawn into a vortex of sibling rivalry, murder, and explosive sexuality.


20.30 - THE CONSEQUENCE
Feature film
Germany, 1977.
Director: Wolfgang Petersen
Cast: Jürgen Prochnow, Ernst Hannawald, Werner Schwuchow

Thomas is the son of a prison warden. He falls for and seduces Martin, who is older and one of the prison inmates. After Martin is released, They try to build a relationship and a life together but, no one will let them alone.
Friday, 16 September

18h - LGBT_SLO_1984
Documentary film
Slovenia, 2022.
Director: Boris Petkovič
World Premiere

We begin with the Magnus Gay Culture Festival, which was organised in 1984 in ŠKUC, Ljubljana and which included the LGBT Film Festival – the first LGBT film festival in Europe. In the same year, the so-called "Magnus Section" – the first organised gay movement in the former Yugoslavia and probably in Eastern Europe as well – was established in the context of the ŠKUC-Forum, which brought together various alternative and civil social movements at the time. The first years were characterised by club events (the only of their kind in the former Yugoslavia) and the organisation of events and festivals. The Slovenian LGBT movement became the most progressive movement of that time and is still active today through different forms and organisations.


20.30 - THE PARADE
Feature film
Serbia, 2011.
Director: Srđan Dragojević
Cast: Nikola Kojo, Miloš Samolov, Goran Jevtić, Hristina Popović

Turning transgression into a comedic principle, this turbulent farce that toys with clichés and stereotypes turned out to be an unexpected hit in Serbia and other ex-Yugoslavian countries. In PARADA a life-saving operation on a gangster's pitbull terrier brings together two very different worlds: old school machismo meets gay obsession for interior design, homophobia meets overblown gender display as a number of former foes – Serbs, Bosnian Muslims, Kosovo-Albanians and Croatian war veterans – find themselves obliged to form a tenuous bond with a bunch of gay activists. This motley crew are sent on an impossible and probably suicidal mission to protect a fresh attempt to hold a Gay Pride parade from renewed and certain onslaught from nationalists and neo-Nazi organisations and make the event a success. Srdjan Dragojević's film takes a look at survival strategies for gays in Serbia and at a society that even now, years after the Balkan war, is still fragmented and riven by two entrenched fronts. And, as one would expect from any comedy worthy of the name, no matter how tumultuous the plot, real-life tragedy is always hovering in the background, just a step away.
Saturday, 17 September
In cooperation with Istituto Italiano di Cultura

18h - ARABIAN NIGHTS
Feature film
Italy, 1974.
Director: Pier Paolo Pasolini
Cast: Ninetto Davoli, Franco Citti, Franco Merli

In ancient Arabia, a beautiful slave girl chooses a youth to be her new master, then she is kidnapped and they must search for each other. Stories are told within stories: love, travel and the whims of destiny.


20.30 - TEOREMA
Feature film
Italy, 1968.
Director: Pier Paolo Pasolini
Cast: Silvana Mangano, Terence Stamp, Massimo Girotti

A mysterious young man seduces each member of a bourgeois family. When he suddenly leaves, how will their lives change?
Sunday, 18 September
In cooperation with Istituto Italiano di Cultura

18h - THE CANTERBURY TALES
Feature film
Italy, 1972.
Director: Pier Paolo Pasolini
Cast: Hugh Griffith, Laura Betti, Ninetto Davoli

Pasolini's artistic, sometimes violent, always vividly cinematic retelling of some of Chaucer's most erotic tales.


20.30 - SALO, OR THE 120 DAYS OF SODOM
Feature film
Italy, 1975.
Director: Pier Paolo Pasolini
Cast: Paolo Bonacelli, Giorgio Cataldi, Uberto Paolo Quintavalle

In World War II Italy, four fascist libertines round up nine adolescent boys and girls and subject them to 120 days of physical, mental, and sexual torture.